An Exhilarating Evening of Music, 4 November 2023, Exeter Cathedral – Music of the Baroque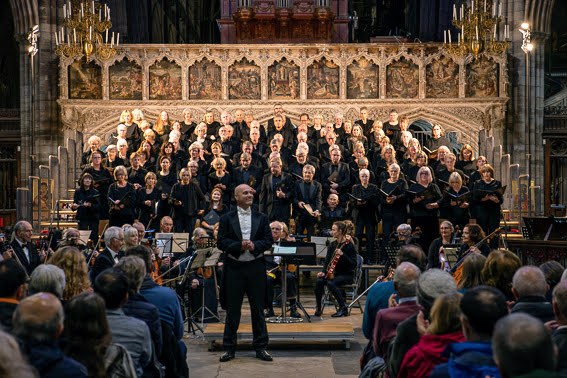 | | |
| --- | --- |
| Type of post: | Choir news item |
| Sub-type: | Choir News |
| Posted By: | Jenny Lloyd |
| Status: | Current |
| Date Posted: | Tue, 7 Nov 2023 |
It was exciting to have Exeter Cathedral full to capacity to hear the glorious music of Handel, Marcello and Vivaldi for our first concert of the 2023/24 season.
Handel Zadok the Priest provided an uplifting start to the concert. Under the direction of Howard Ionascu, the choir fully captured the grandeur and majesty of the work.
The more intimate music of Marcello Oboe Concerto in D minor provided a beautiful contrast. Fergus McCready, accompanied by the Isca Ensemble, produced a beautiful tone, long florid lines and effortless ornamentation, much to the delight of the audience.
The choir then gave a focused and vibrant performance of Vivaldi Gloria, creating moments of great contrast.
The final item of the programme was Handel Dixit Dominus, a piece full of choral challenges — intricate counterpoint, repeated high notes and glorious suspensions — which the choir more than met, with confident entries, a well-blended choral sound and clear communication with the audience.
The three gifted soloists — Lucy Cronin, Ellie Sperling and Martha McLorinan — all produced a wonderful purity of tone, coupled with vocal dexterity, and filled the Cathedral with their voices. We are proud that two singers from the choir, Stuart Mole (tenor) and Peter Francis (bass), joined them for one movement. Sensitive basso continuo accompaniment was provided throughout on the organ by the choir's associate director of music, Stephen Tanner, and by Tirke Linnemann on cello.

It was the choir's first collaboration with the Isca Ensemble and we look forward to developing our partnership in the future.
It was an exhilarating evening of music for singers, players and audience.
Angela Blackwell's full review can be found here:
https://www.exeterphilharmonic.org.uk/dbpage.php?pg=pastevents