'CAROLS IN THE CATHEDRAL' WILL HELP LOCAL REFUGEE CHARITY
Date Posted: Mon, 4 Dec 2023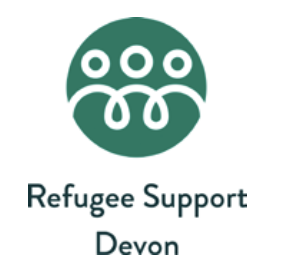 Exeter Philharmonic Choir is proud to have raised funds for many local charities at its annual carol concerts in Exeter Cathedral. This year the donations received will go to Refugee Support Devon. The charity's vision is for Devon to be a place where refugees are welcomed and supported to rebuild their lives and integrate successfully into their new communities. With the help of the cash collection, it will be able to provide welcome packs for newly arrived asylum seekers in Devon.
The exciting programme of music for our 'Carols in the Cathedral' on 12 and 13 December 2023 will include familiar tunes alongside new settings of traditional carols. Guest artist will be Julian Poore on trumpet, with the choir's associate director of music, Stephen Tanner, on organ and piano. The choir is particularly looking forward to performing a new carol Stephen has written for us, called Nova! Nova!

As always, the audience will be encouraged to raise the Cathedral's resplendent roof by joining the choir to sing some well-known Christmas carols.
An Exhilarating Evening of Music, 4 November 2023, Exeter Cathedral – Music of the Baroque
Date Posted: Tue, 7 Nov 2023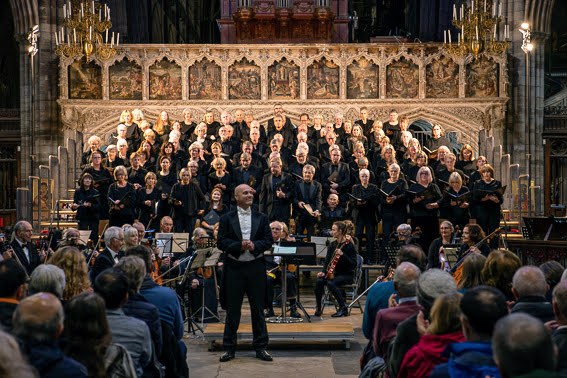 It was exciting to have Exeter Cathedral full to capacity to hear the glorious music of Handel, Marcello and Vivaldi for our first concert of the 2023/24 season.
Handel Zadok the Priest provided an uplifting start to the concert. Under the direction of Howard Ionascu, the choir fully captured the grandeur and majesty of the work.
The more intimate music of Marcello Oboe Concerto in D minor provided a beautiful contrast. Fergus McCready, accompanied by the Isca Ensemble, produced a beautiful tone, long florid lines and effortless ornamentation, much to the delight of the audience.
The choir then gave a focused and vibrant performance of Vivaldi Gloria, creating moments of great contrast.
The final item of the programme was Handel Dixit Dominus, a piece full of choral challenges — intricate counterpoint, repeated high notes and glorious suspensions — which the choir more than met, with confident entries, a well-blended choral sound and clear communication with the audience.
The three gifted soloists — Lucy Cronin, Ellie Sperling and Martha McLorinan — all produced a wonderful purity of tone, coupled with vocal dexterity, and filled the Cathedral with their voices. We are proud that two singers from the choir, Stuart Mole (tenor) and Peter Francis (bass), joined them for one movement. Sensitive basso continuo accompaniment was provided throughout on the organ by the choir's associate director of music, Stephen Tanner, and by Tirke Linnemann on cello.

It was the choir's first collaboration with the Isca Ensemble and we look forward to developing our partnership in the future.
It was an exhilarating evening of music for singers, players and audience.
Angela Blackwell's full review can be found here:
https://www.exeterphilharmonic.org.uk/dbpage.php?pg=pastevents
THE NEW SEASON STARTS WITH A FLOURISH
Date Posted: Fri, 29 Sep 2023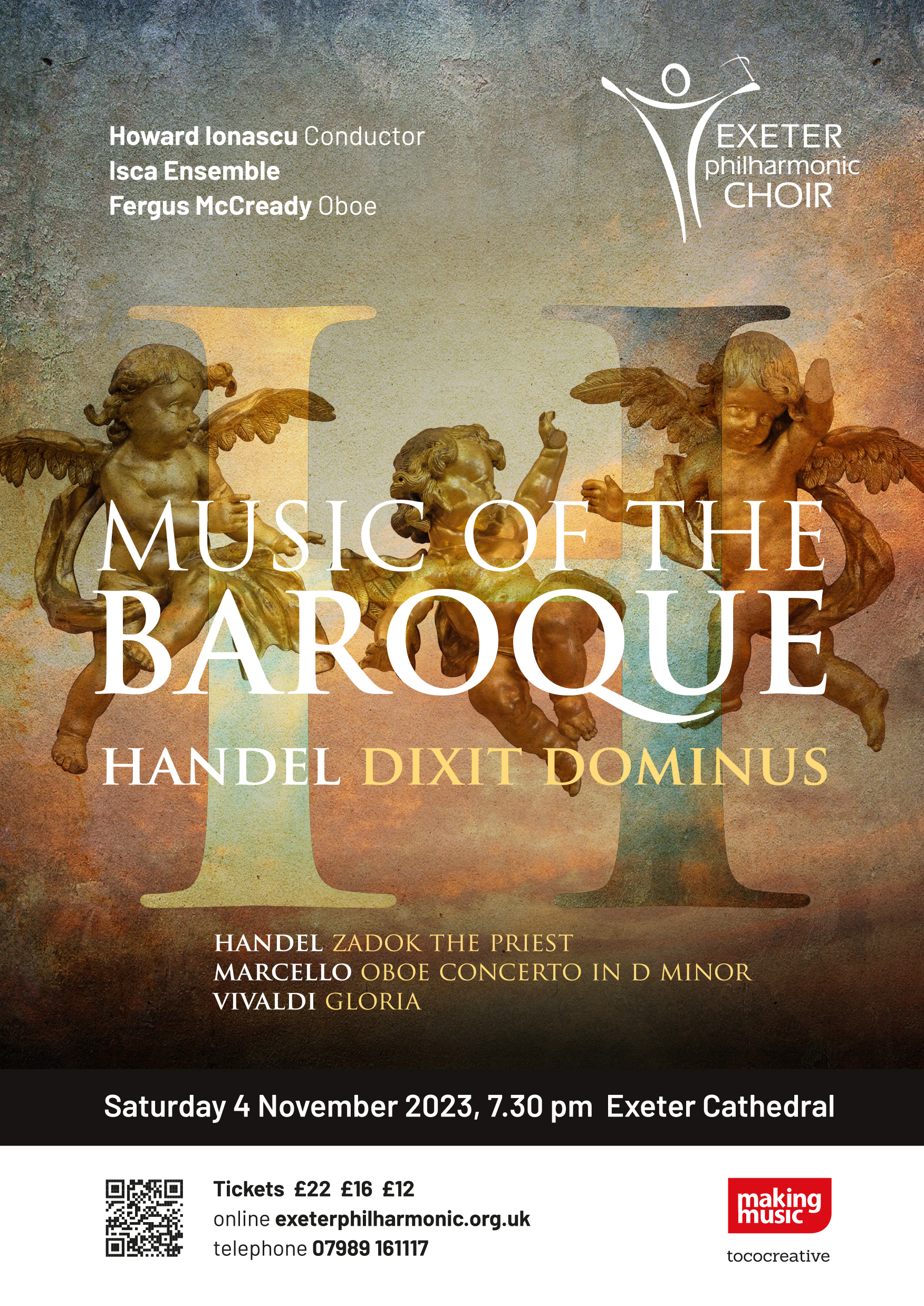 Our new season has started with a flourish as we embark on rehearsing the repertoire for Music of the Baroque in Exeter Cathedral, 7.30 pm, 4 November 2023. The concert features glorious Baroque music: Dixit Dominus and Zadok the Priest by Handel; Oboe Concerto in D minor by 18th-century Venetian composer Marcello; and Vivaldi's ever-popular Gloria.
For Howard Ionascu, our Director of Music, 'Dixit Dominus sits alongside Messiah as one of Handel's sublime choral works.

' T

he intricacies of the work are certainly keeping the choir on its toes.
Joining us will be well-known local orchestra, the Isca Ensemble, together with rising young oboe player Fergus McCready and internationally renowned vocal soloists Lucy Cronin, Ellie Sperling and Martha McLorinan.
Two of the soloists have Exeter connections. Oboist Fergus McCready took up the instrument after playing his recorder at a voice trial in Exeter Cathedral to Stephen Tanner, director of girl choristers there for many years. Soprano soloist Ellie Sperling (née Partridge) was a chorister under Stephen at Exeter Cathedral and then began developing her singing career in his choral group, Isca Voices. Stephen is now the choir's Associate Director of Music and will also play the continuo parts in the concert.
We are looking forward to working with the Isca Ensemble. Its Musical Director Roger Hendy says: 'We are delighted to have this opportunity of teaming up with Exeter Philharmonic Choir to present what promises to be a very special autumn programme of beautiful Baroque music.'
FORMER EPC DIRECTOR OF MUSIC FEATURES ON CENTENARY TRIBUTE CD
Date Posted: Wed, 27 Sep 2023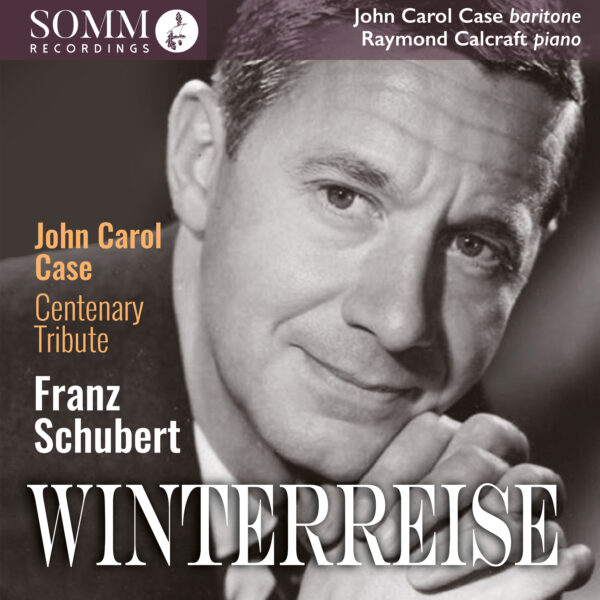 Raymond Calcraft, Exeter Philharmonic Choir's former Director of Music, features on a recently released CD of Schubert's famous song-cycle, Winterreise. The recording is a tribute from SOMM Recordings to mark the centenary of the birth of distinguished English baritone, John Carol Case.
John and Raymond first met in 1971 and subsequently gave several concerts and recitals together, including Handel's Messiah, the Requiems of Brahms and Fauré, and Vaughan Williams' Dona Nobis Pacem, the latter receiving its first performance in Germany. Their performance of Schubert's Winterreise was given at the Portsmouth Festival in May 1973.
Raymond Calcraft was John Case's accompanist of choice during the last five years of his career before his retirement in 1976. Raymond has fond memories of their relationship, describing John Carol Case's singing as being "notable for an almost tenor-like quality in its upper register, his remarkable breath control and, above all, for the clarity and eloquence of his diction."
Go to
https://somm-recordings.com/recording/john-carol-case-centenary-tribute-winterreise/
for your chosen format of the recording.
A Glorious Finale to our Season
Date Posted: Sun, 21 May 2023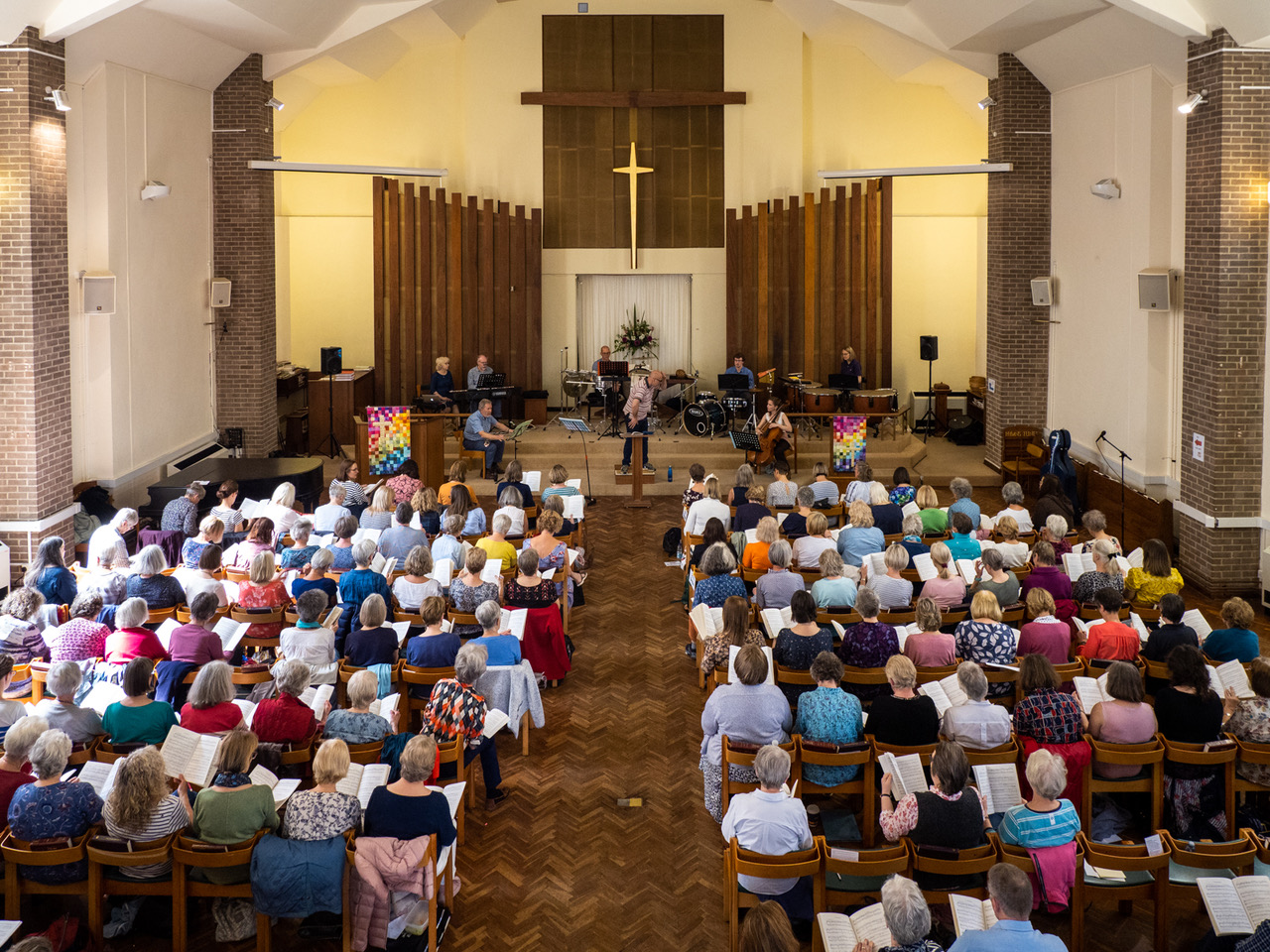 Our singing year ended on 13 May 2023 with a hugely successful workshop on Karl Jenkins' The Armed Man. Nearly 200 singers gathered in The Mint Methodist Church Centre for a glorious day of singing.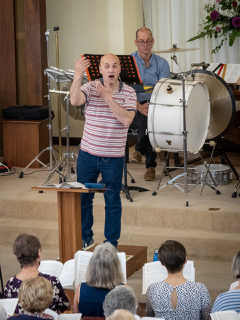 Our director of music, Howard Ionascu, led with his usual enthusiasm and skill. Stephen Tanner, our associate director of music, worked magic with both keyboard and computer, producing some amazingly authentic instrumental sounds. Our guest musicians, trumpeter Paul Thomas, cellist Amye Farrell and percussionists Michelle Hiley, Andy Turner and Tom Clemo, were outstanding. Having a live band greatly enhanced our music-making, while the solo contributions of choir members Helen Goode, Pip Gascoigne-Pees, Jacquie Barnes, Tony Smale and Anthony Butler added many poignant touches.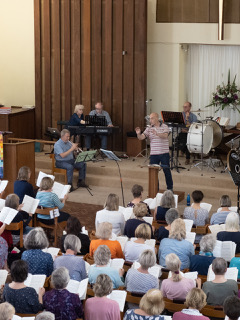 The day ended with a spirited performance of the work to an audience of family and friends, who gave all the performers a standing ovation.
Several guests commented on how much they had learned by spending the day singing next to some of our members. Others spoke movingly of the relevance of the work, summed up in Jenkins' sub-title, A Mass for Peace, to the current war in Ukraine.
A great team from the choir provided refreshments with delicious home-made cakes and bakes. A big thank you to all choir members who made the day run so smoothly.
CHORAL WORKSHOP – KARL JENKINS The Armed Man: A MASS FOR PEACE
Date Posted: Wed, 29 Mar 2023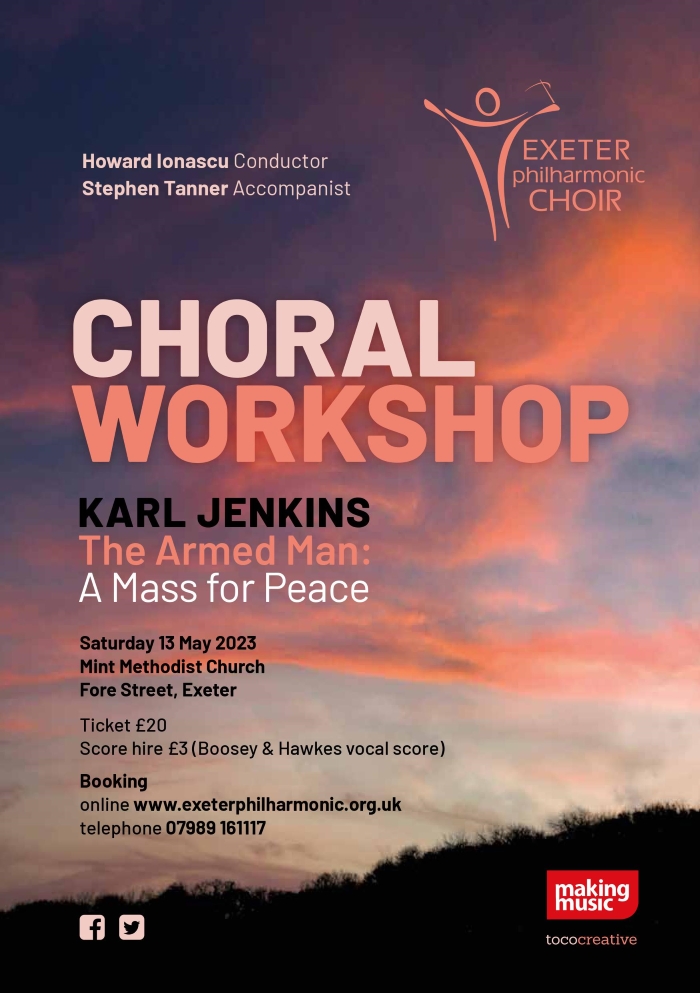 Exeter Philharmonic Choir
CHORAL WORKSHOP
KARL JENKINS
The Armed Man: A Mass for Peace
Saturday 13 May 2023
9.30 am–5.30 pm
Mint Methodist Church
Fore Street, Exeter EX4 3AT
Our season this year ends with a choral workshop exploring Karl Jenkins' The Armed Man: A Mass for Peace, a choral classic which fuses words and music from many different centuries and cultures.
Led by our Director of Music, Howard Ionascu, with accompaniment by Associate Director of Music, Stephen Tanner, singers will explore different sections of this dramatic work as well as gaining tips on vocal technique. The day will conclude with an informal performance accompanied by a small instrumental ensemble and with soloists from Exeter Philharmonic Choir.
We look forward to welcoming singers from Devon and beyond. Members of EPC will have rehearsed the work and so will be able to support singers who are unfamiliar with the music.
Ticket £20; score hire £3 (Boosey & Hawkes vocal score)
online
www.exeterphilharmonic.org.uk
telephone 07989 161117
Audience enthralled by Monteverdi's magnificent Vespers
Date Posted: Wed, 22 Mar 2023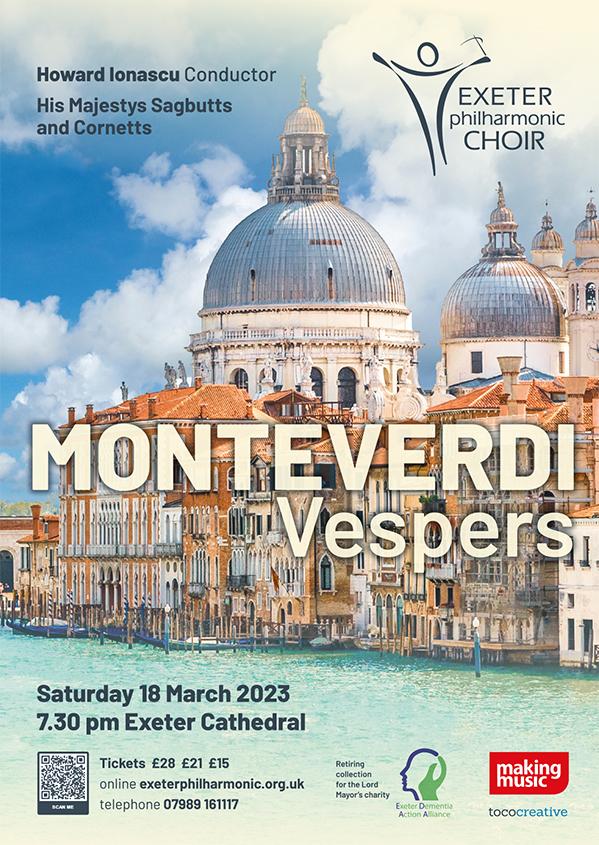 Monteverdi Vespers, 18 March 2023, Exeter Cathedral
The splendour of Exeter Cathedral formed the perfect backdrop for the performance of Monteverdi's 400-year-old work by Exeter Philharmonic Choir, supported by Devon County Junior Choir, His Majestys Sagbutts & Cornetts, six world-class vocal soloists and associate director of music, Stephen Tanner, on chamber organ.
The staging of the event by EPC's director of music, Howard Ionascu, took full advantage of the building's acoustics, with performers moving to different places to create varied dramatic effects, which were much appreciated by the capacity audience. There was particular praise for the children of the Devon County Junior Choir, who sang beautifully and with great confidence.
As our reviewer, Angela Blackwell, says: "The opportunity to hear Monteverdi's rarely performed, towering choral work was clearly a big draw and it was wonderful to see a full Cathedral. The audience was amply rewarded with an evening of music-making that had moments of both intimacy and vocal fireworks.
"
She continues: "This was an incredibly ambitious concert and it was a delight to sit in the Cathedral, enveloped by sound, and to reflect on this music that would have been heard there so many centuries ago. Congratulations to everyone on producing an evening of music ranging from the devout to magnificent splendour!"
There has also been an enthusiastic response on social media. One audience member described it as "the best concert I have been to at the Cathedral in 24 years". Others commented on the beauty of the occasion and how all the performers looked happy and relaxed, while everyone appreciated the singing of the Devon County Junior Choir under Andrew Downton's direction.
You can read Angela Backwell's full review here:
https://www.exeterphilharmonic.org.uk/dbpage.php?pg=pastevents
Glorious Carols in the Cathedral benefit local charity
Date Posted: Mon, 19 Dec 2022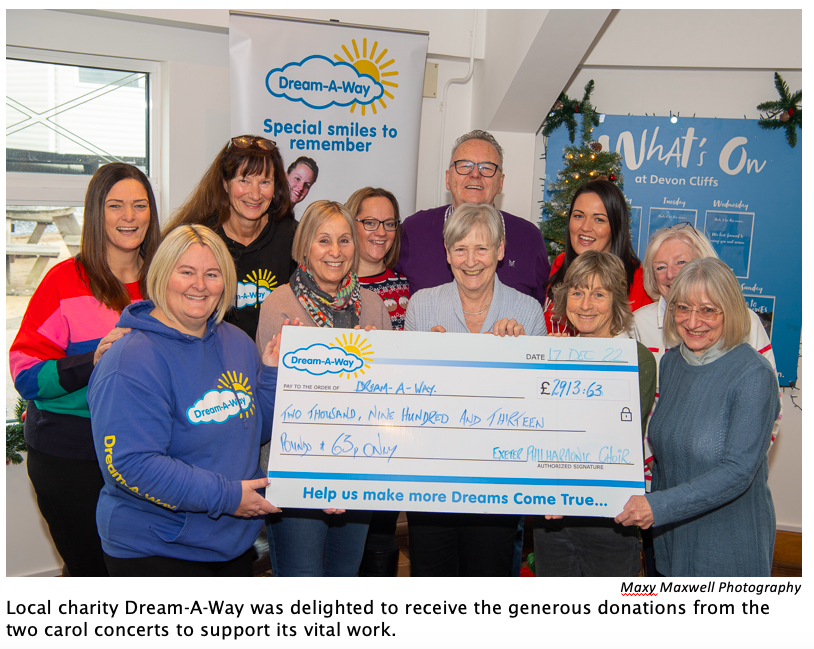 Exeter Philharmonic Choir once again brought the joy of Christmas music to Exeter Cathedral with two nights of carols in December, under the baton of our director of music, Howard Ionascu. The audiences clearly had a wonderful time, raising their voices with us in the congregational carols and responding with enthusiastic applause to our performances. One audience member described it as a magical evening, while
another said their New Year's resolution would be to come and hear the choir perform more often.
Special guest was internationally renowned soprano Amy Carson, whose glorious voice added an extra dimension to the concerts with her beautiful renditions of pieces by Handel and Bach and the much-loved favourite, O Holy Night, sung in French and English. Stephen Tanner, our associate director of music, complemented the singing with virtuoso playing on the Cathedral organ. The biggest hit was his enchanting arrangement of Stille Nacht for soprano, choir and organ.
Once again we continued our proud tradition of raising funds at Christmas for a local charity. This year's chosen charity was
Exeter-based
Dream-A-Way,
which helps holiday dreams come true for Devon children and adults with disabilities or life-affecting health conditions. The charity was overwhelmed by the audience's generosity on both nights, which raised a total of £2,913.
Exeter Philharmonic Choir is very grateful to our sponsors, Everys Solicitors and Clinton Devon Estates, for their continued support of our carol concerts over many years.
CHOIR AND BRASS CELEBRATE ON BONFIRE NIGHT
Date Posted: Wed, 23 Nov 2022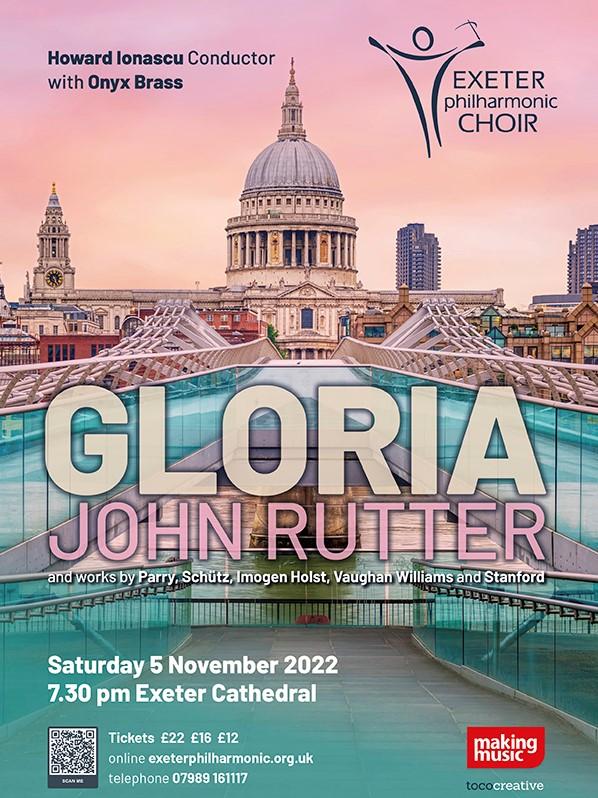 We opened our 176th season with Gloria, a concert
planned to celebrate Queen Elizabeth II's Platinum Jubilee. Instead our concert was a thanksgiving for her long and glorious reign. And in the words of our reviewer, David Batty, the audience "was richly entertained by an evening of music which was certainly fit to celebrate Queen Elizabeth's long life and reign."
The concert, under the baton of our director of music Howard Ionascu featured the augmented Onyx Brass with percussion, and Stephen Tanner, our associate director of music, on the Cathedral organ. Members of the choir sang the solos.
Highlights for David Batty included the choir's performance of Stanford's
For Lo, I Raise Up
. "
With admirable diction, the performance reflected well the anthem's initial anger before moving to the prophet's concluding conciliatory message about deliverance."
"The concert concluded with choir and brass combining for its principal work, John Rutter's popular Gloria, composed in 1974.
The introspective second movement was impressive in expression and tuning, with Rutter's ethereal effects allowed real sensitivity in the performance, led by the organ (expertly played by Stephen Tanner, as elsewhere during the concert), and building around the words 'Domine Deus' to a beautifully graded climax in the middle of the movement. Appreciation should be recorded of those members of the EPC who sang short solos both here and in the Stanford anthem. Choir, brass, percussion and organ sounded resplendent in the energetic first and third movements, in particular in their accommodating the fast tempo set for the latter, with the concert finishing with a real sparkle – all the more appropriate for Bonfire Night!"

You can read David Batty's full review here: www.exeterphilharmonic.org.uk/dbpage.php?pg=pastevents
A Fine Finale for the 2022 Pilgrims' Chorus
Date Posted: Fri, 12 Aug 2022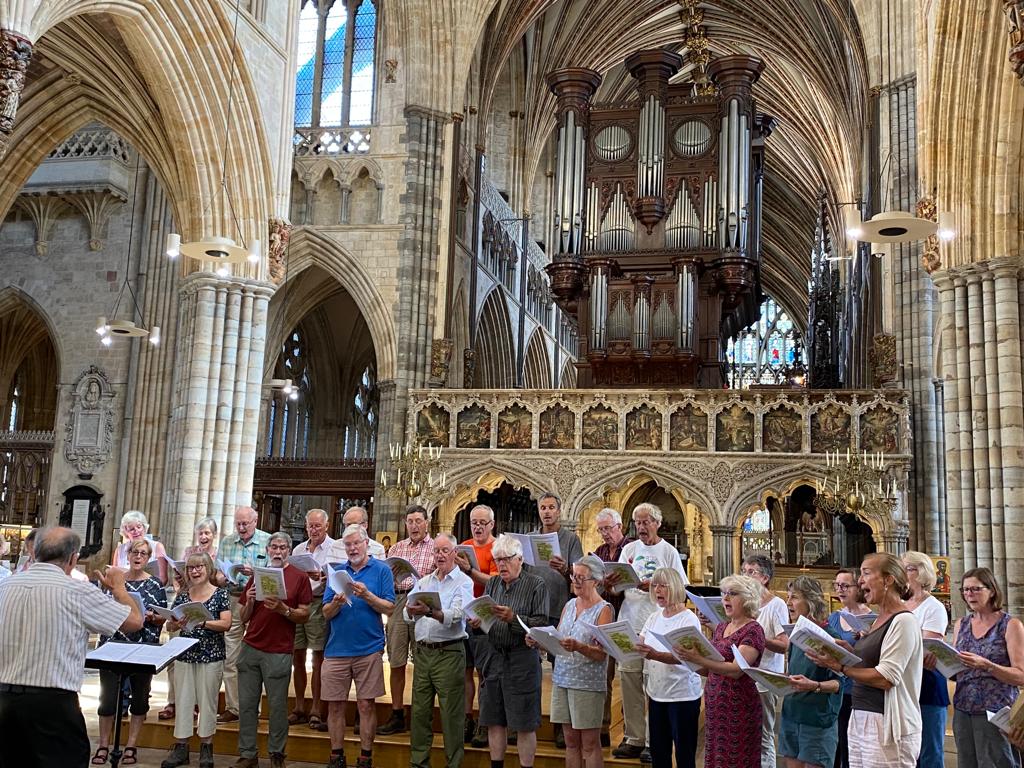 Members of EPC and friends completed their second choral pilgrimage, this year along St Boniface Way, on Sunday 7 August with their final concert in Exeter Cathedral where they had a warm reception from an appreciative audience.

Their journey started on Friday 5 August at the Holy Cross Church, Crediton where they performed their first concert. Early on Saturday 6, the pilgrims sang a few pieces in St Swithun's Church, Shobrooke – and then continued on their way with a beautfiul walk to Newton St Cyres for a lunchtime concert in the Church of St Cyr and St Julitta. The day finished with a performance in the Church of Our Lady in Upton Pyne and a delicious meal in the village hall.

Before their final concert in the cathedral, the pilgrims walked from Upton Pyne, climbing up through Stoke Woods to the Mary Harris Memorial Chapel on the university campus to sing a short programme in the chapel's amazing acoustic.

The pilgrims received wonderful hospitality along their way from the churches and their communities which hosted their concerts.

The Programme
Under the direction of EPC's associate director of music, Stephen Tanner, the Pilgrims' Chorus sang an eclectic programme of music interspersed with poetry readings. This year there was music by Byrd, Scarlatti, Bruckner and Elgar along with folk songs set by Holst and Vaughan-Williams and a set of spirituals arranged by Stephen. And a special feature was a performance of Give me my scallop shell by Andrew Millington – a beautfiul interpretation of Sir Walter Raleigh's words in The Passionalte Man's Pilgrimage.

Plans are already underway for a third choral pilgrimage in 2023, this time in Heredforshire.
A CHORAL PILGRIMAGE: IN THE STEPS OF St BONIFACE
Date Posted: Thu, 30 Jun 2022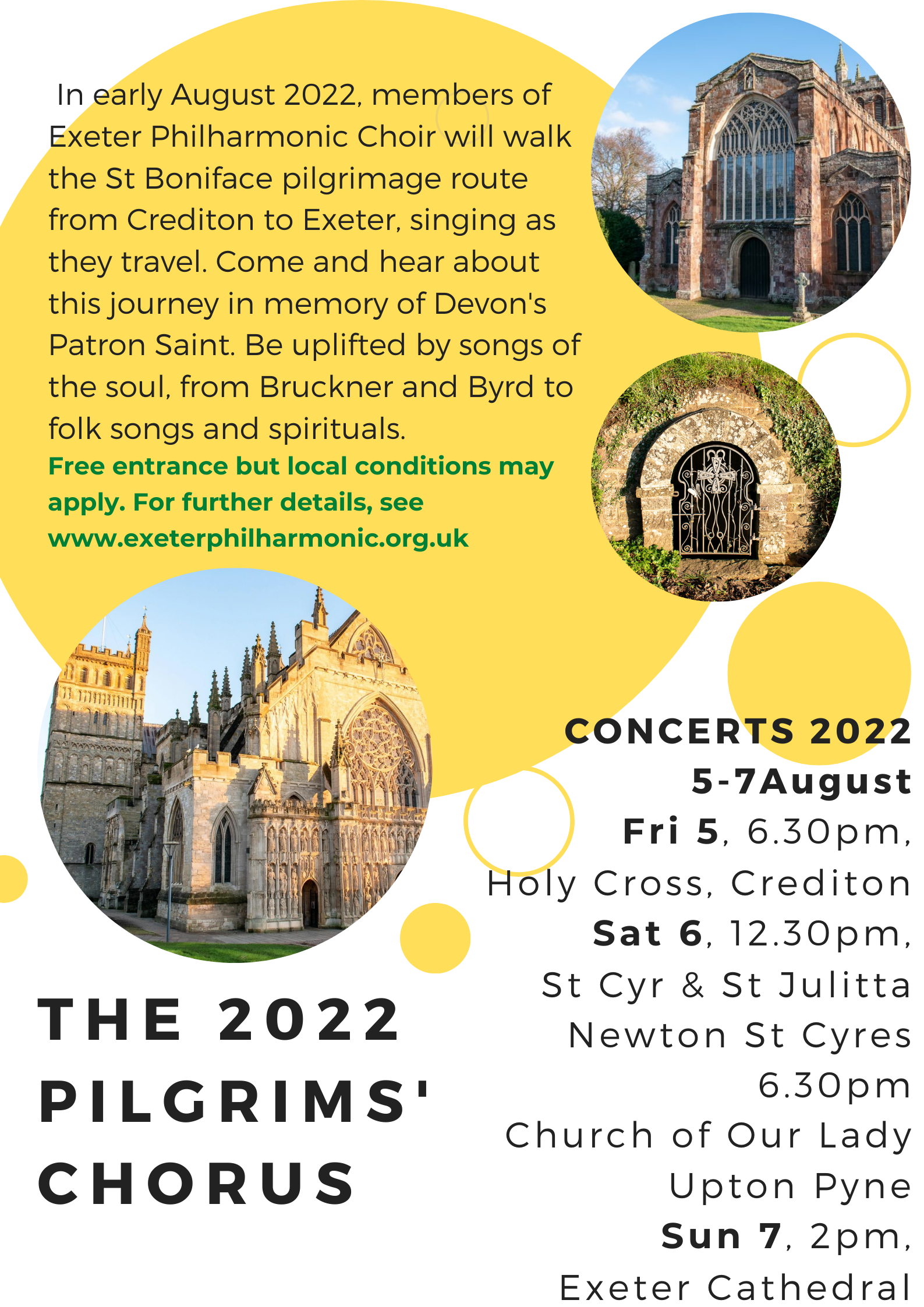 Members of Exeter Philharmonic are about to start rehearsing for our second Choral Pilgrimage, this year along St Boniface Way from Holy Cross Church, Crediton to Exeter Cathedral.
St Boniface Way is a new walking route which tells an old Devon story commemorating an Anglo-Saxon boy, Boniface (now the patron saint of Devon) who was born in Crediton in 675 and who travelled to a monastery in Exeter to begin his religious training.
The singers will follow the route which runs the fourteen miles from Crediton along the rivers, fields and churches of the Creedy and Exe valleys before ending at Exeter Cathedral – singing as they go.
The Pilgrims' Chorus is again under the direction of Stephen Tanner, our Associate Director of Music, leading an eclectic programme featuring classical composers from Byrd to Bruckner, Scarlatti to Stanford alongside madrigals, folk songs and three traditional spirituals arranged by Stephen Tanner. There will be a strong West Country flavour, including Andrew Millington's Give me my scallop shell.
Do come and hear these 'songs of the soul' and meet our travelling singers. Entrance to each of the concerts is free, though donations are invited.
THE PILGRIMS' CHORUS – CONCERTS 2022
Friday 5 August, 6.30 pm

.

Church of the Holy Cross, Crediton.
Saturday 6 August, 12.30 pm. Church of

St Cyr and St Julitta, Newton St Cyr
Saturday 6 August, 6.30.

Church of Our Lady, Upton Pyne.
While admission to the Upton Pyne concert is free, with donations welcome, seating is restricted and seats will need to be reserved in advance by contacting Linda Findlay, on lindafindlay99@yahoo.co.uk, or tel.01392-841402.
Sunday 7 August, 2.00 pm.

Exeter Cathedral (normal entrance fee applies)
Free entrance to all concerts – donations invited.
Ending the Season with a Swing
Date Posted: Sat, 28 May 2022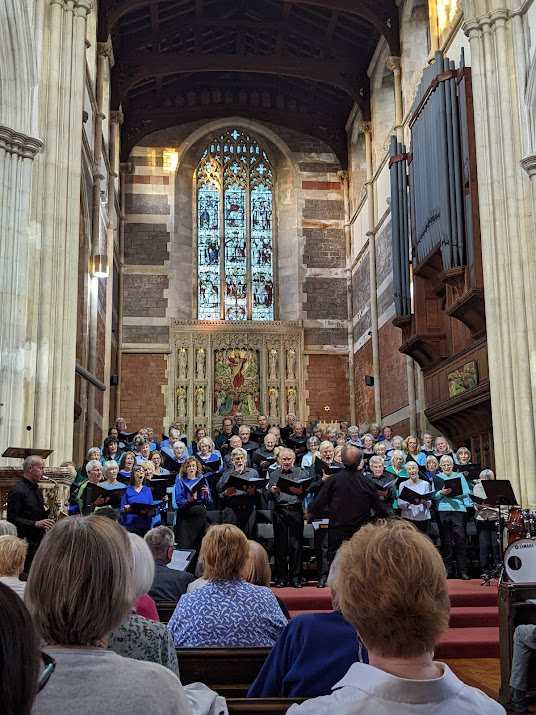 Stunning, happy, memorable are just some of words used to describe our final concert of the season at Holy Trinity Church, Exmouth. And this review by David Batty says it all:
Enthusiasm, Accuracy, Smiling Faces … and Swing!
When did you last see a large choral society obviously enjoying themselves during a performance? I don't just mean after the event when the singers are enthusing about an evening's music making, but actually during a concert, with smiles and joy on their faces. Well, this was certainly the case at the Exeter Philharmonic Choir's summer concert on Saturday 21 May at Holy Trinity Church, Exmouth, and none more so than during the first performance of Stephen Tanner's Jazz Te Deum and Jubilate Deo.
The concert, conducted by Stephen Tanner, the Choir's Associate Director of Music, focused on the theme of Sacred Jazz, a concept carefully explained in Tanner's programme notes for the occasion. His new work fused two familiar sacred texts with music in the jazz idiom composed during the coronavirus pandemic lockdown. The Choir brought an infectious swing to the piece enhanced by the combination of saxophone, piano, double bass and drums that provided the instrumental accompaniment. The beautiful and atmospheric playing of saxophonist Steve Wiltshire was especially effective in sustaining the special jazz idiom that underpinned Tanner's ambitions, but Andrew Downton (piano), Phil Williams (bass) and Ryan Carter (drums) all had their part to play in a successful first performance, which was met with warm and prolonged applause from the large audience. The work deserves a second outing, and more!
Earlier in the concert, Stephen Tanner conducted the Choir in three traditional spirituals in his own, effective arrangements (I especially enjoyed Didn't my Lord deliver Daniel?), while he then joined Andrew Downton in a performance of Richard Rodney Bennett's Four Piece Suite: Divertimento for Two Pianos, a lively composition touching on samba, country blues and ragtime, perhaps not helped on this occasion by the heavy bass of the two electric pianos. The concert had opened with music by Will Todd, a composer who has made a prominent name for himself in a wide range of musical styles including his jazz-based Mass in Blue. On this occasion we heard another jazz-infused work, four of the six songs that make up Todd's Songs of Peace, quieter in mood than the Tanner work, but well performed by the ever-attentive Choir and the accompaniment of piano, bass and drums.
The concert's repertoire could have presented a real challenge for the EPC singers as they moved outside their usual comfort zone of choral classics, but they met the challenge with lots of enthusiasm, accuracy, smiling faces … and swing!

David Batty
Celebrating 175 years: Exeter Living interviews our Director of Music, Howard Ionascu
Date Posted: Tue, 5 Apr 2022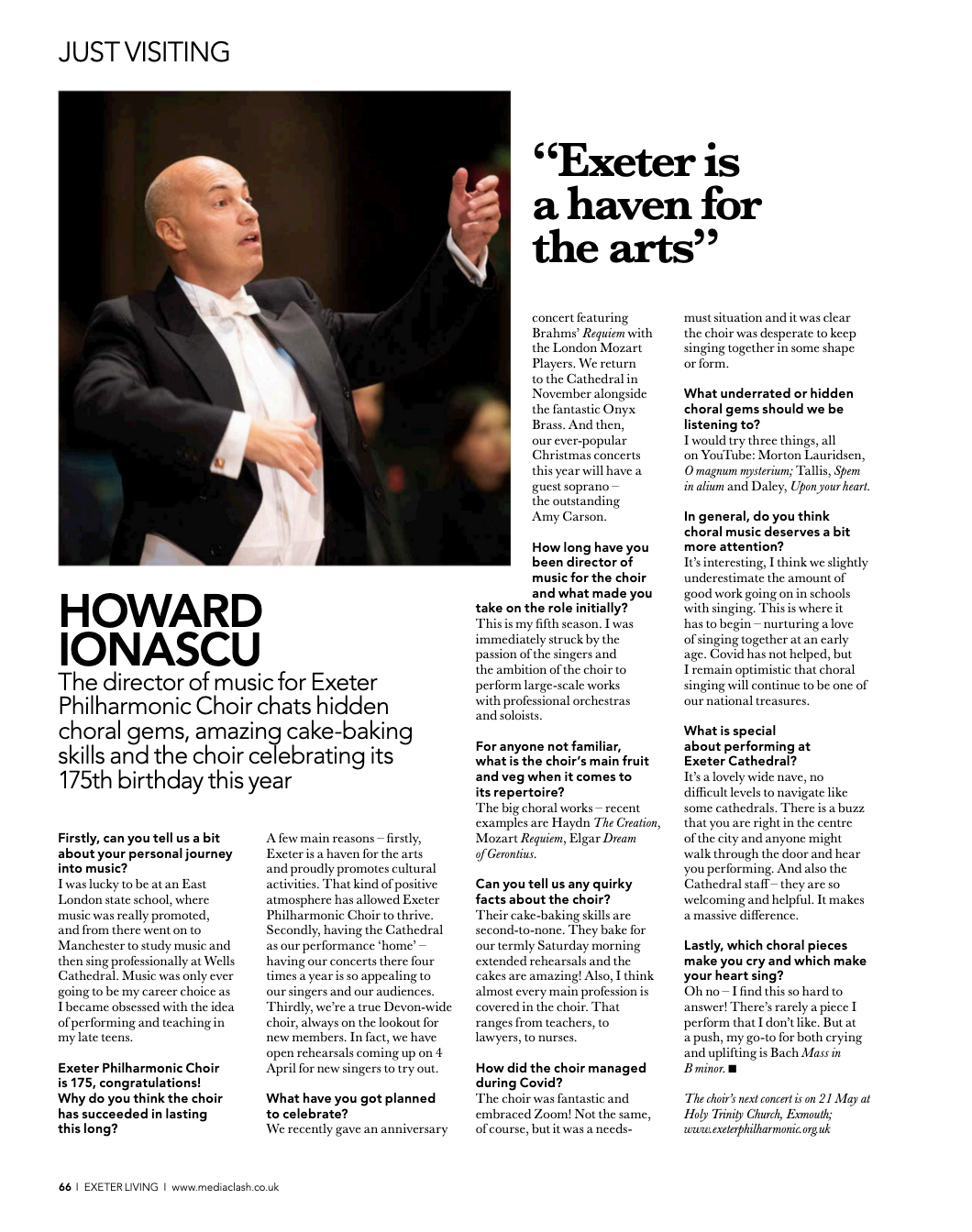 Celebrating 175 Years of Performance with Brahms Ein deutsches Requiem
Date Posted: Wed, 16 Mar 2022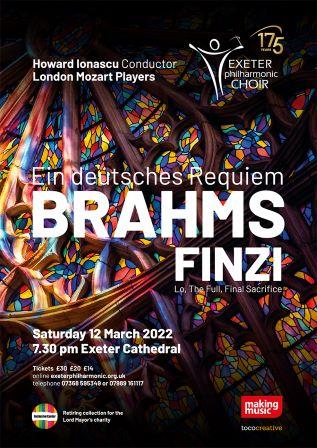 Here are extracts from David Batty's review. You can read the full text here
https://www.exeterphilharmonic.org.uk/dbpage.php?pg=pastevents
It was two years almost to the day (14 March 2020, just before the first Covid lockdown) that I last had the pleasure of reviewing a concert in Exeter Cathedral by the Exeter Philharmonic Choir. Then it was a performance of Beethoven's mighty Missa Solemnis; this occasion, on Saturday 12 March 2022, was of the German Requiem by Brahms or, rather, Ein deutsches Requiem, as the choir sang the work in the original German. The choice of this major work within the choral repertoire served as a grand celebration of EPC's
175 uninterrupted years of performance since its foundation in 1846 – quite an achievement, and 20 years before Brahms composed the Requiem! It was pleasing, too, to see a well-filled Cathedral to mark the occasion.
For conductor Howard Ionascu this work presented a real challenge. The choir sings in all seven movements, which represents a demanding stay of stamina throughout the 60+ minutes of the work. But Howard Ionascu and his EPC forces are to be admired for keeping the energy levels so high, with no less vigour in the great fugue of the sixth movement than that which ends the third. Some frailties in choral entries and ensemble notwithstanding, the performance gave the audience a real sense of the mix of anguish and consolation that is such a feature of the work. Diction of the German text was good.
Two fine singers took on the solo roles. Jessica Cale's beautiful soprano voice, easily encompassing the high tessitura of her part, led the consolatory fifth movement in a reflective and moving manner. Singing in the third and sixth movements, baritone Timothy Nelson brought an impressive, lieder-like freshness to his performance, with an authoritative feeling for both text and music.
Accompanying the EPC were the London Mozart Players, who provided warm, high quality support: how good, for instance, to have a rich foundation to the slow tread of 'Denn alles Fleisch es ist wie Gras' ('For all flesh is grass') at the start of the second movement.
Lo, The Full, Final Sacrifice
Before the Requiem, the concert offered us a rare performance of Gerald Finzi's Lo, The Full, Final Sacrifice, originally written (in 1946) with organ accompaniment but here heard in an orchestral guise very much in the English pastoral tradition. This is a lovely work set to words by the 17th century Richard Crashaw drawn from writings by St Thomas. I enjoyed the choir's careful attention to the work's dynamics though, as with the Brahms, the balance between voices and orchestra was occasionally challenged in forte climaxes. The performance included short solo contributions from EPC members, tenor Stuart Mole and bass Martin Stubbings.
Howard Ionascu and his performers are to be congratulated on such an enjoyable concert, which was the Exeter Philharmonic Choir's annual performance in aid of the Lord Mayor's Charity, on this occasion Inclusive Exeter.
Celebrating 175 years
Date Posted: Sat, 26 Feb 2022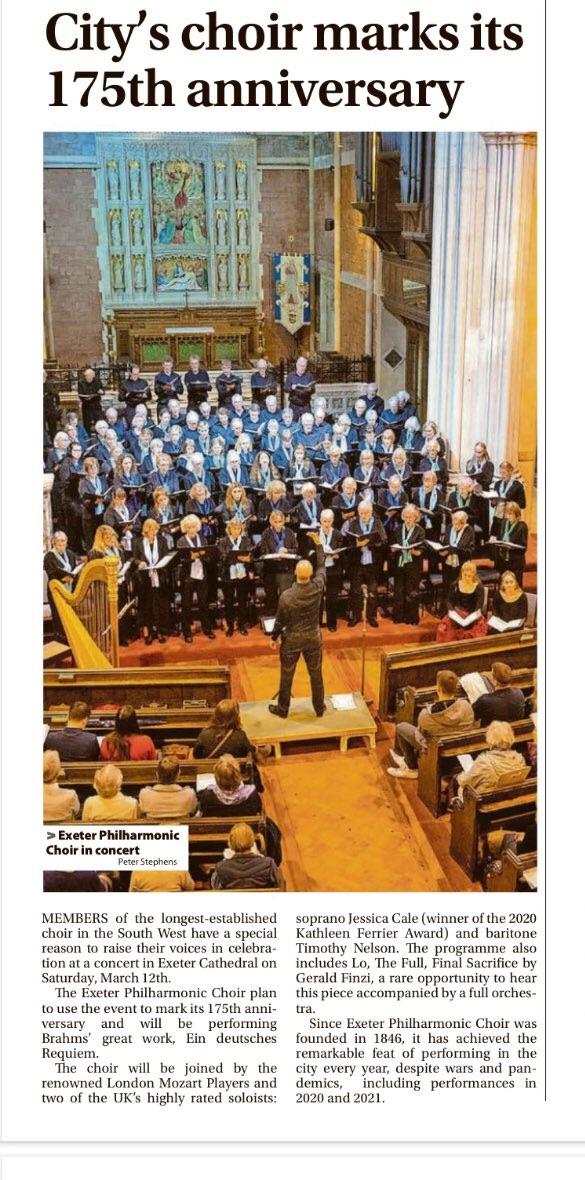 There is a flurry of activity on the publicity front in advance of our 175th anniversary performance of Brahms' great work, Ein deutsches Requiem in Exeter Cathedral on 12 March. The Western Morning News published an article Friday 26 February. And Angela Kalwaites will feature the choir in her morning programme on BBC Radio Devon, focusing on our celebration of 175 years and our anniversary concert.
Members of the choir are busy publicising the concert among friends, family and work colleagues. And our social media presence on Facebook, Twitter and Instagram is alive with posts.
The choir were delighted at the size of audiences at their Autumn and Christmas concerts and were overwhelmed by the warmth of their reception. We look forward to performing for you again with the renowned London Mozart Players and two of the UK's most exciting soloists, soprano Jessica Cale, winner of the 2020 Kathleen Ferrier Award, and baritone Timothy Nelson.