THE NEW SEASON STARTS WITH A FLOURISH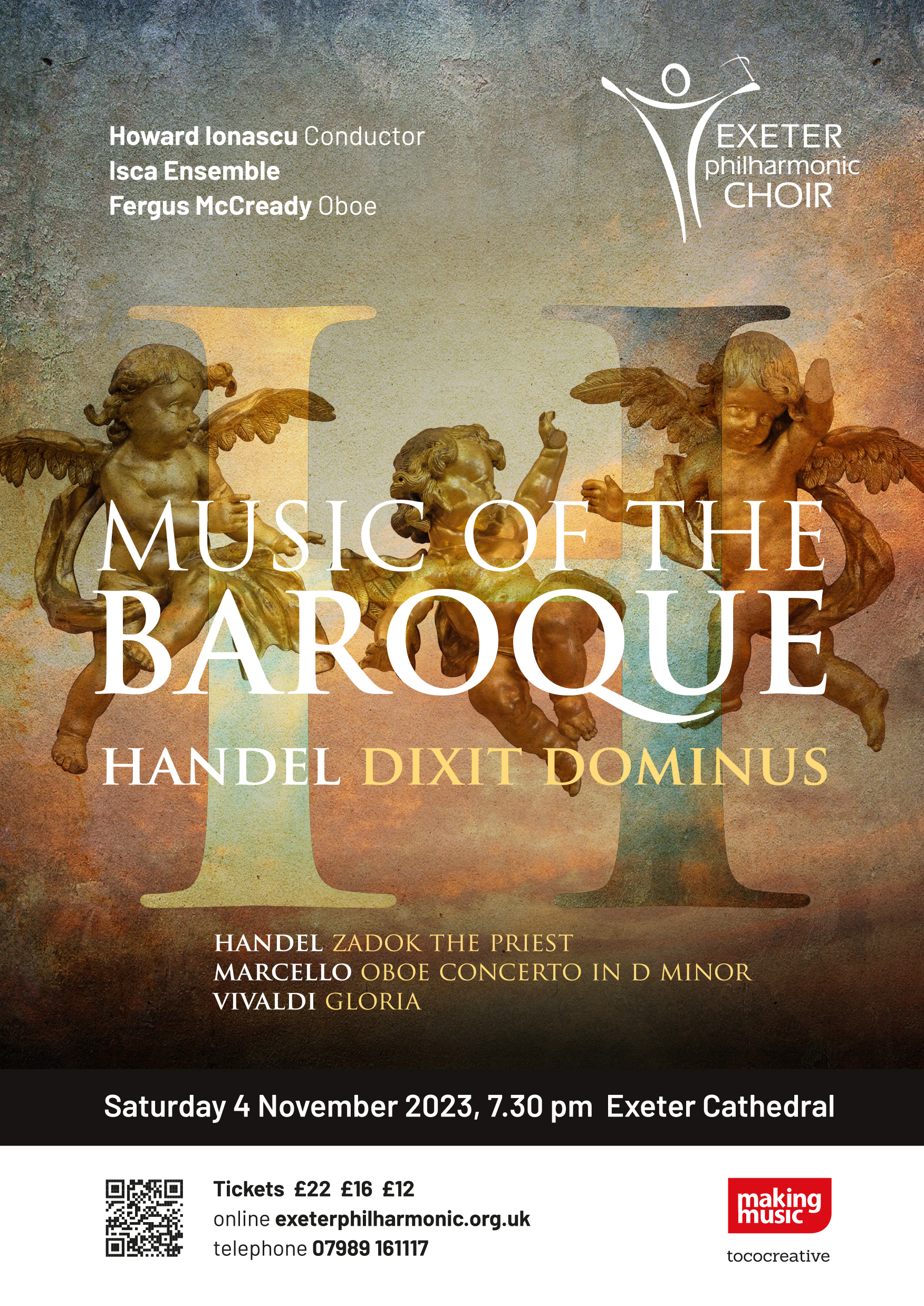 | | |
| --- | --- |
| Type of post: | Choir news item |
| Sub-type: | Choir News |
| Posted By: | Jenny Lloyd |
| Status: | Current |
| Date Posted: | Fri, 29 Sep 2023 |
Our new season has started with a flourish as we embark on rehearsing the repertoire for Music of the Baroque in Exeter Cathedral, 7.30 pm, 4 November 2023. The concert features glorious Baroque music: Dixit Dominus and Zadok the Priest by Handel; Oboe Concerto in D minor by 18th-century Venetian composer Marcello; and Vivaldi's ever-popular Gloria.
For Howard Ionascu, our Director of Music, 'Dixit Dominus sits alongside Messiah as one of Handel's sublime choral works.

' T

he intricacies of the work are certainly keeping the choir on its toes.
Joining us will be well-known local orchestra, the Isca Ensemble, together with rising young oboe player Fergus McCready and internationally renowned vocal soloists Lucy Cronin, Ellie Sperling and Martha McLorinan.
Two of the soloists have Exeter connections. Oboist Fergus McCready took up the instrument after playing his recorder at a voice trial in Exeter Cathedral to Stephen Tanner, director of girl choristers there for many years. Soprano soloist Ellie Sperling (née Partridge) was a chorister under Stephen at Exeter Cathedral and then began developing her singing career in his choral group, Isca Voices. Stephen is now the choir's Associate Director of Music and will also play the continuo parts in the concert.
We are looking forward to working with the Isca Ensemble. Its Musical Director Roger Hendy says: 'We are delighted to have this opportunity of teaming up with Exeter Philharmonic Choir to present what promises to be a very special autumn programme of beautiful Baroque music.'